Print
Business-to-Business Campaign
Bronze Winner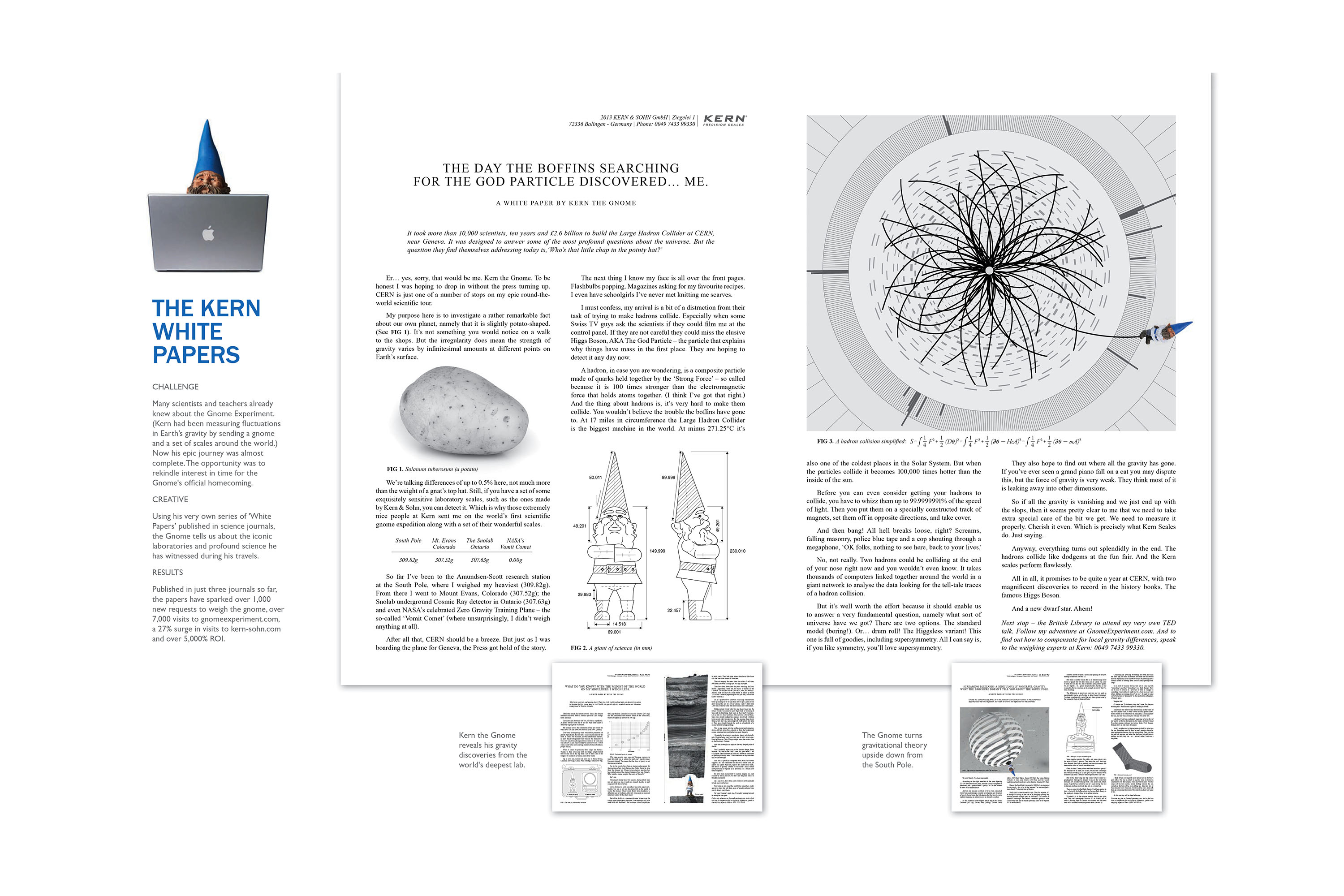 Entrant:
OgilvyOne, London
Kern Precision Scales - White Papers Campaign
"Potato",
"Sock",
"Ear Popping"
Media Used:

Newspaper

Corporate Name of Client:

Kern & Sohn

Agency:

OgilvyOne , London

Executive Creative Directors:

Charlie Wilson
Emma de la Fosse

Copywriters:

Malcolm Pryce
James Nester

Art Director:

Graham Jenks

Description of the Project:

Aim:
Most scientists and teachers had already heard about Kern's Gnome Experiment'. (Scientists had been measuring the fluctuations in Earth's gravity by circulating a set of Kern precision scales and a garden gnome test-weight.) But the gnome's epic world trip was coming to a close. There was an opportunity to build the brand further by celebrating some of the amazing stories that weren't common knowledge.
Creative:
Kern ran ads in selected science supply journals. In the spirit of the experiment, each was written as a scientific 'white paper' by the gnome himself. He was as amazed as anyone at the incredible, iconic scientific institutions he had visited – Amundsen Scott Research Station at the South Pole, the world's deepest laboratory and the Cern Hadron Collider.
Results:
Our stories have ran in just three German magazines so far and already they have already rekindled interest in the story, with almost 1000 new requests to weigh the gnome, over 7000 new visitors to gnomeexperiment.com and a 27% surge in visits to Kern-sohn.com But best of all, two distributors who saw the ads signed up with Kern, which will result in an estimated 5000% return on investment this year.